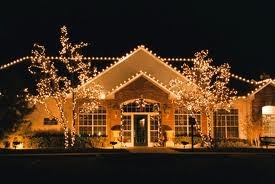 Hang The Lights - Professional Holiday and Event Decorating For many busy households, the holiday season is a time to relax and spend quality time with family and friends creating memories that will last a lifetime.

Perhaps the most visible display of the holiday season is the jaw-dropping colors and patterns of lighting and decoration that transform homes and businesses. Today, our holiday "visuals" have a bit more pizzazz than just decking the halls with boughs of holly. For those who want their holiday display done right, Hang The Light's will transform your home or business into a picture-perfect winter wonderland. With specialized training, attention to detail, and the best holiday decorating products on the market, our experienced and dedicated crews will handle your Christmas lights and holiday decorating from start to finish. All you need to do is sit back with your eggnog or hot buttered rum and enjoy the view.

This year let Hang The Lights magically transform your home or business for the holiday season..

If you are not familiar with our company and your first contact with us is online: We would be pleased to hear from you! Please let us know what your needs and questions are, we will be more than happy to help.

Contact us today for a free decorating quote (702)551-4264